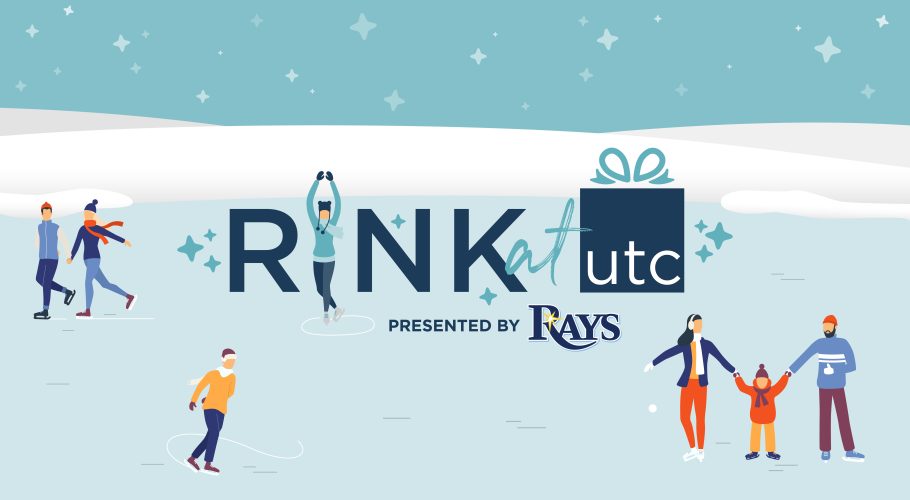 The Rink at UTC
Events
Lace up your skates for some wintertime fun because a real ice rink is back at UTC! Presented by the Tampa Bay Rays, The Rink is located in the East District at UTC, right next to PopStroke.
---
Ticket Prices
Individual Tickets: $17.00 per skater
Tickets include ice skate rental
Tickets are non-refundable and non-transferable. All hours are subject to weather and rink conditions. You will be sent an email if your ice skating reservation must be rescheduled. In case of severe weather that causes a public safety concern, skaters may be asked to leave the outdoor event.
For more information about group reservations or private party events, please email sarasota@icerinkevents.com.
Hours of Operation
Nov 25 – Dec 22
Mon-Friday: 4 PM-10 PM
Sat-Sun: 11 AM-10 PM
Dec 23 – Jan 2
Daily: 11 AM-10 PM
New Paperless Ticketing
Ice skating at UTC is back and we look forward to welcoming you back to skate! All visits must be reserved in advance by purchasing  timed ticket(s) online. All visitors will receive a confirmation email with a waiver and a receipt. Entry is not guaranteed to those who walk up to purchase tickets as tickets sell out quickly. Those who attempt the "walk-up" purchase of tickets in-person, will be shown a QR-code to purchase tickets on their smartphones; if the present time is fully-booked, the guest will be shown other available times to skate.
How To Make a Reservation And Buy a Ticket
Enter your information and select the date/time you wish to skate.
After payment, a receipt will be sent & a separate email will prompt you to complete waiver(s).
Check your inbox for e-ticket(s) after completing your waiver(s).
NOTE: You will not receive your E-ticket(s) until you have completed the waiver(s). Please read the FAQs, as tickets are non-refundable and non-transferable. For all issues related to ticketing, please contact support@icerinkevents.com.
See you on the ice!