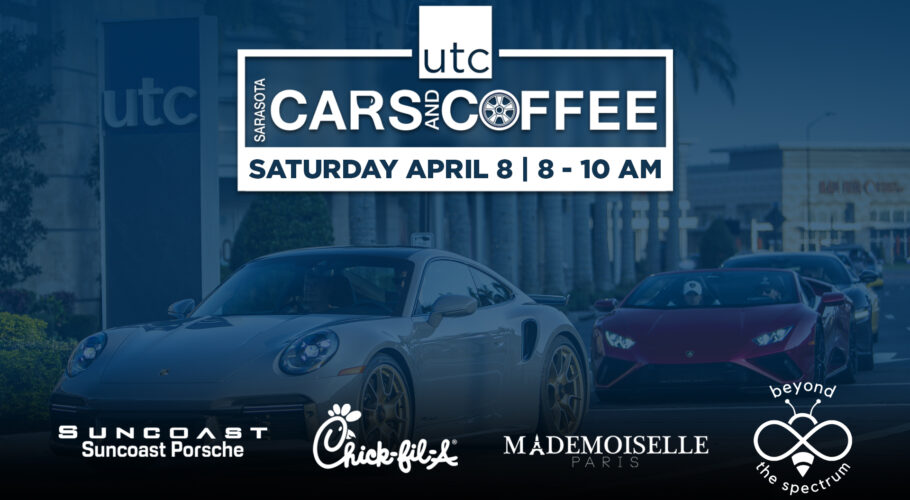 Sarasota Cars & Coffee
Events
Fuel up your weekend with Sarasota Cars & Coffee on Saturday, April 8 from 8-10am! Come see a unique display of classic, luxury and exotic cars, while enjoying live music by The Island Hoppers, complimentary coffee from Mademoiselle Paris and Chic-Fil-A, and water from Suncoast Porsche. April is Autism Awareness Month, and we're partnering with Beyond the Spectrum to support their mission of providing specialized education and therapy services to students ages 4-22 affected with Autism, Down syndrome, and similar exceptionalities. All show car owners are encouraged to donate $10 at the entrance to benefit this great cause.
Held the second Saturday of every month, Sarasota Cars & Coffee at UTC features the area's most diverse gathering of automotive enthusiasts. The show takes place in the West District at UTC near Ford's Garage. It is open to spectators and all makes, models and vintages are welcome. Parking is first come first serve. No advance registration is required. Free spectator parking is located adjacent to the main display lot. Trailer parking is behind Dick's Sporting Goods. Stay for brunch afterwards at Ford's Garage, which will open early at 10 am (on Cars & Coffee Saturdays only).
Sarasota Cars & Coffee is powered by UTC and Suncoast Porsche.