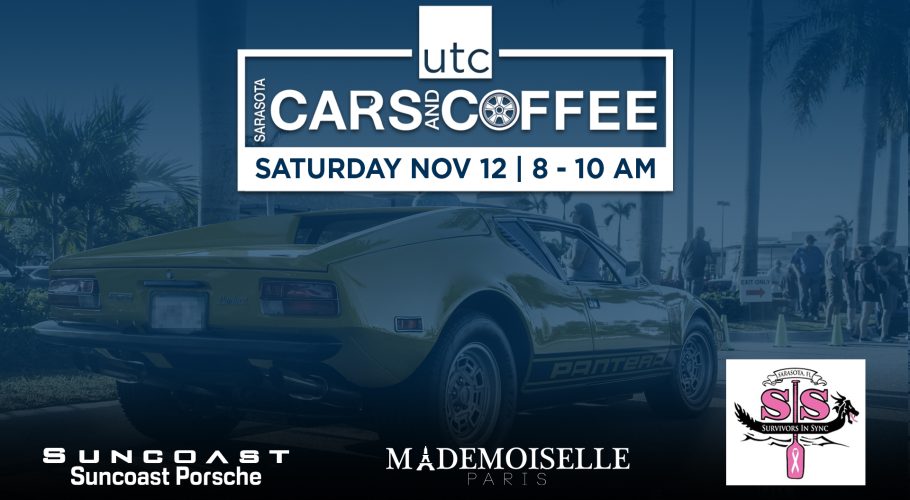 Sarasota Cars & Coffee
Events
Calling all car enthusiasts! Join us Saturday, November 12 for a special edition of Sarasota Cars & Coffee featuring Panteras. The Southeast Panteras Chapter will be displaying a selection of their finest cars and honoring 50-year Pantera owner Marty Quadland.
Come see a unique display of classic, luxury and exotic cars, while enjoying live music, complimentary coffee from Mademoiselle Paris and water from Suncoast Porsche. All show car owners are encouraged to donate $10 at the entrance to benefit Survivors in Synch, a paddling team of breast cancer survivors who work together to promote an active lifestyle and serve as role models for others battling the disease.
Held the second Saturday of every month, Sarasota Cars & Coffee features the area's most diverse gathering of automotive enthusiasts. The show takes place in the West District at UTC near Ford's Garage. It is open to spectators and all makes, models and vintages are welcome. Parking is first come first serve. No advance registration is required.
Trailer parking is located across the street from the main entrance. Trailers will not be permitted to enter the show area.
Sarasota Cars & Coffee is powered by UTC and Suncoast Porsche